Projects
More projects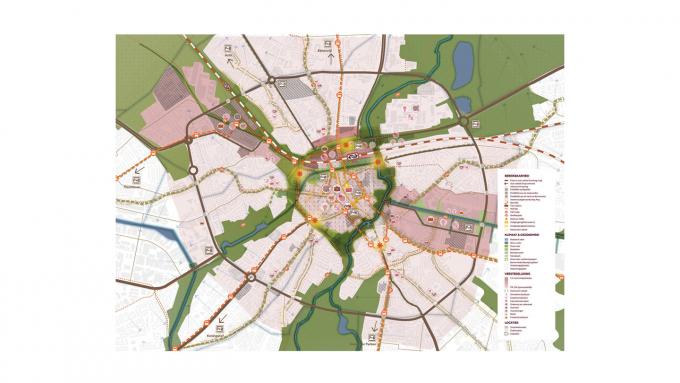 Development Perspective 2040 City Centre Eindhoven
Municipality of Eindhoven
Development Perspective 2040 City Centre Eindhoven
Eindhoven has challenges to accommodate the growth of the city. Considering its limited space, the aim is to densify the city center with approximately 25,000 homes. However, this should not be at the expense of the accessibility and quality of the city center. The ambition is actually to improve the quality of the city centre through densification. This raises the question what spatial interventions are needed in the coming years to achieve this goal. That is why the Municipality asked PosadMaxwan, together with APPM, Goudappel Goffeng and Tauw, to create a development perspective for Eindhoven Centre 2040.
The development perspective describes how the necessary growth, in the form of densification of the center, can be accommodated in a good way. It provides the municipality of Eindhoven with tools how to combine densification with a quality impulse for the public space. By looking integrally at growth, quality of life, climate adaptation, greening, health and accessibility, space is created for an economically vital and socially inclusive city. The perspective builds upon the scenic, cultural-historical and modern-technological qualities that Eindhoven already has.
While drawing up the development perspective we first combined the sectoral policy ambitions of the Municipality. Subsequently we mapped the qualitative spatial structures of the city. We then refined the perspective by looking more precisely at the existing situation. Finally, we advised the Municipality about future developments using Key Performance Indicators.
Municipality of Eindhoven
Han Dijk, Elena Chevtchenko, Yue Shen, Stefano Aglieri, Tomer Shachaf, Michelle Blom, Iulia Sirbu
APPM, Goudappel Goffeng en Tauw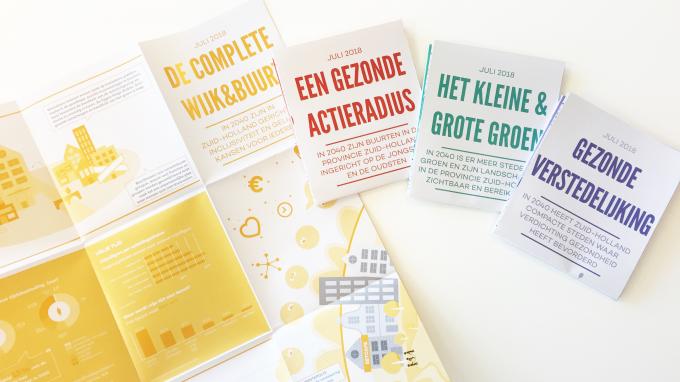 Healthy Zuid-Holland 2040
Province of Zuid-Holland
Healthy Zuid-Holland 2040
How can Zuid-Holland become the Netherlands' healthiest province by 2040? It's the province facing the heaviest environmental pressures: it contains two of the biggest cities in the country, and urbanisation is set to continue. By 2040, around five million people will live here. To ensure it remains an attractive place to live, work and play over the long term, Zuid-Holland must reinvent itself as a healthy province full of healthy residents. We have conducted a study to help the provincial government to think about this vision and the role it should play, and to formulate an agenda for the future.
Human health is strongly linked to lifestyle and environment. And health problems are more prevalent in urban areas. How can migration to cities be connected to the ambition of creating a healthy environment? Can we turn today's weakness into tomorrow's strength?
The study focuses on protecting and promoting good health. We therefore looked not just at the "cure" side of things, medicine's usual emphasis, but also at preventative "care" opportunities. A final report translates the findings into four storylines, which are summarized in four downloadable flyers (in Dutch):
Zuid-Holland, Netherlands
Emile Revier, Froukje van de Klundert, Francesca Becchi, Tomer Shachaf, Vincent Babes, Milan Oosterling
TNO (Netherlands Organisation for Applied Scientific Research)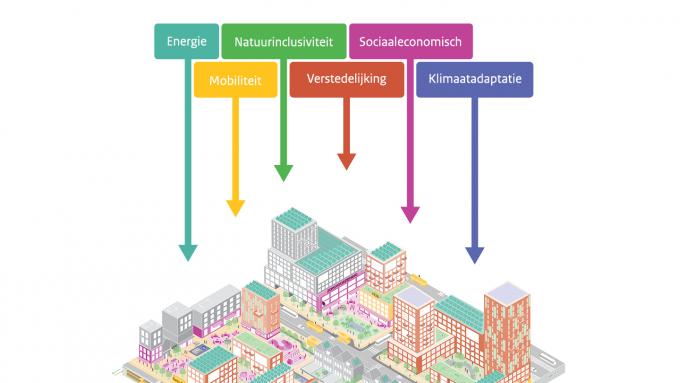 Integral Neighborhood Strategy
Dutch Ministry of Internal Affairs
Integral Neighborhood Strategy
The Netherlands is at a tipping point: already now and in the coming years our living environment will change significantly to facilitate transitions in the fields of energy, climate adaptation, mobility, urbanization, nature inclusion and socio-economics. These spheres of change are closely interlinked and their dependency on each other make a combined, not separate, strategy ever more important.
Benefits of an integrated solution are particularly noticeable at the neighborhood level. Each field of transition directly affects the local scale because space is scarce and interests diverge. Due to these factors, decisions made regarding transition become particularly noticeable for residents. Through formulating insights with the Integrated Neighborhood Strategy we are best able to support those involved in identifying and weighing up interests and opportunities. When implemented at a system level, the approach enables better coordination between multiple neighborhoods thus making municipal and national ambitions more easily realized.
The Integrated Neighborhood Strategy provides insight into the spatial claims of various transitions, and where efforts can be combined and implemented into strategic and implementable process. This unification results in minimal inconvenience to the residents. For example, if a street is being opened for a new sewerage system the decision can be made to use this work to install also a heat network even if before planned schedule. Moreover, this approach makes tailor-made solutions possible, since districts and tasks differ locally. By unravelling the complex interplay of space, time and the processes surrounding transitions, municipalities can use the Neighborhood Strategy to translate ambition into concrete action.
Dutch Ministry of Internal Affairs
Emile Revier, Froukje Taconis, Cateau Albers, Elena Chevtchenko, Eva Verberne, Albert de Win, Karolina Tatar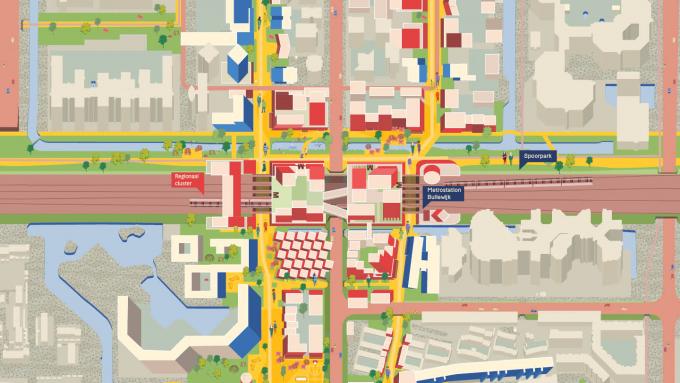 Amsterdam Bullewijk
O-Team of the Ministry of the Interior
Amsterdam Bullewijk
Amsterdam's Bullewijk is a closed neighbourhood where infrastructure dominates urbanity, and accessibility is more important than liveability. It was conceived as a plan that prioritised car accessibility, which resulted in poor infrastructure that overpowered urban development, now experienced as lack of human scale. The neighbourhood is characterised by separate developments and monofunctional neighbourhoods. The railway track by Bullewijk Station forms a barrier rather than a backbone for development potential.
The aim was to give Bullewijk a livelier streetscape, and to better connect the adjacent Bijlmer-Centrum and Amstel III neighbourhoods. Commissioned by the O-Team of the Ministry of the Interior, we helped to think about solutions for the neighbourhood, focusing on mobility and accessibility.
To ensure the city will transform from closed to open, strong connections with nearby projects have to be created. These guarantee maximum flow, which creates more exchange and meeting between the neighbourhoods, making Bullewijk more lively and pleasant. The neighbourhood's boundary no longer serves as an end point, but as a pit stop. New developments face the street rather than inwards, and a diversification programme ensures that neighbourhoods transform from monofunctional to multifunctional. The track becomes a lively junction, moving from an obstacle to the backbone for the development of the area.
O-Team of the Ministry of the Interior
Han Dijk, Gijs de Haan, Ada Jaskowiec, Stefano Agliati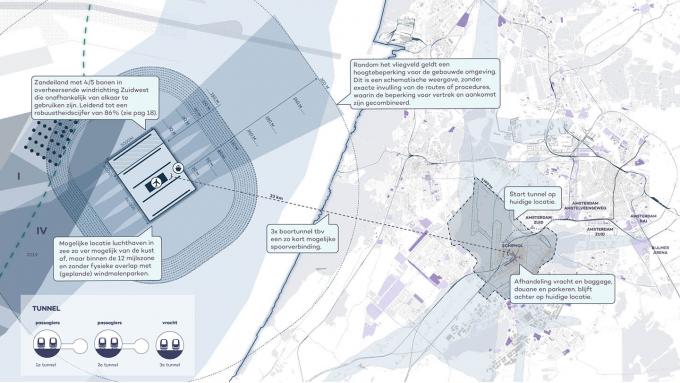 Airport in the Sea
Dutch Ministry of Infrastructure and Water Management
Airport in the Sea
Due to the direct consequences Schiphol has on local residents, the airport is limited in its possibilities to meet the growing demand in the sector at its current location. Therefore, a balance must be found between liveability and safety on the one hand, and economic development on the other.

At the request of the Dutch Ministry of Infrastructure and Water Management, we carried out a quickscan of the greatest costs and benefits of relocating Schiphol to an island in the sea. This would be a choice for radical change of national airport Schiphol and the Dutch aviation sector. Additionally, it has significant effects on various developments in the North Sea, such as windfarms, and the current Schiphol location. The research updated previously collected information on the subject, and estimated the costs in accordance with current standards. It served as input for the 2020-2050 Aviation Policy Document.

Our quickscan showed that the greatest benefits of a relocation would be an improvement in the quality of life in the area, room for development, and growth in aviation operations. The greatest costs would be the construction of the island and the connection to the mainland, the achievement of climate objectives, the tourist and recreational function of the coast, interim investment in the current location with a shortened depreciation period, and time loss due to the connection to the sea. Furthermore, an airport at sea would only be useful in the case of a very high increase of airline passengers.
Dutch Ministry of Infrastructure and Water Management
Emile Revier, Froukje van de Klundert, Gintare Norkunaite, Emma Lomas Escribano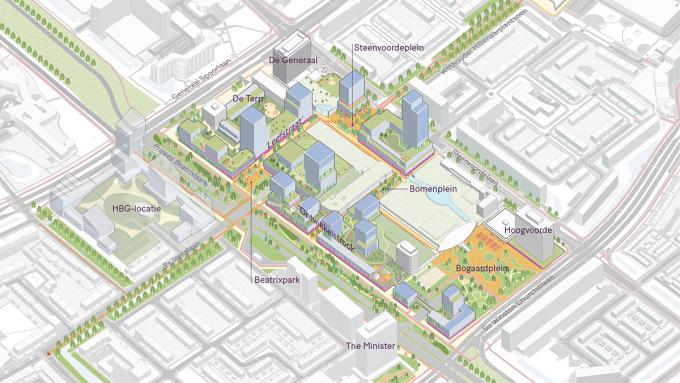 In de Bogaard, Rijswijk
Municipality of Rijswijk
In de Bogaard, Rijswijk
The Rijswijk shopping centre In de Bogaard has struggled with structural vacancy and declining appeal for some time. Nevertheless, the shopping centre's potential is great. By turning the area into a multifunctional and green city centre, it will once more become meaningful to Rijswijk. This is aided by its convenient location at both local and regional level, and the fact that it can benefit from the expected increase in Rijswijk's number of inhabitants.
In cooperation with various experts, we worked on a plan based on transforming a large part of the existing retail space, adding a larger amount and variety of homes, and making the outdoor space greener. This way, In de Bogaard will change from a monofunctional shopping centre into an attractive, connected place where residents and visitors meet, live and shop. Furthermore, the accessibility of the shopping centre is improved by creating new connections with surrounding neighbourhoods and transforming the Prinses Beatrixlaan. As a result, the area can change structurally, and In de Boogaard can become compact and lively once more. Because the plan was partly developed from discussions with various owners and developers, after approval from the municipality in December 2019, the first follow-up steps to start the transformation of the area were already taken by owners.
View news item
design for the transformation of a shopping centre
Han Dijk, Michiel Raats, Elena Bulanova, Ada Jaśkowiec, Thomas Grievink, Michał Strupiński, Shruti Maliwar, Corné Strootman, Gintarė Norkūnaitė, Jonah van Delden, Rugilė Ropolaitė, Stefano Agliati
APPM Management, Klaas de Boer, WYNE Strategy & Innovation, Empaction, COUP Group, Goudappel Coffeng, Peutz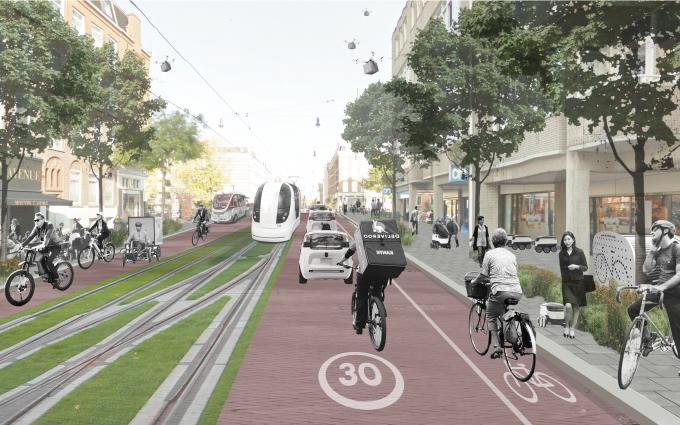 Smart Mobility, What If?
Dutch Ministry of Infrastructure and Water Management
Smart Mobility, What If?
Moving and stationary traffic currently take up 48% of the public space in Dutch cities, while space in the city is already scarce. Additionally, urgent tasks such as the energy transition and new homes also need space. Smart mobility can be part of the solution. It is expected to reduce car ownership in cities, enabling different traffic management there. This frees up space for other developments.
Smart mobility is a comprehensive name for the smart deployment and combination of innovative, technological discoveries with the aim of making the mobility system more efficient, safe, sustainable, and comfortable. Many studies focus on the technological and traffic engineering aspects. Together with Goudappel Coffeng, we looked at the spatial consequences, especially if smart mobility is applied on a large scale. The results of the study have been rendered into seven lessons. One of these is the fact that Mobility as a Service saves space, because individual car ownership is less necessary. We also learned that smart mobility, such as the e-bike, requires traffic mixing, as there is no space for additional infrastructure in the urban area. And that the multitude and diversity of hubs are important for the success of MaaS, but to make these nodes as fully-fledged and useful as possible with all kinds of facilities, space is needed too.
In addition to formulating spatial answers to the question: Smart Mobility, What If?, the aim of the research was to inventory new transport concepts, provide insight into the development of generic policy, and raise questions for further research and/or method development.
Dutch Ministry of Infrastructure and Water Management
Emile Revier, Froukje van de Klundert, Martijn Hollestelle, Vincent Babeş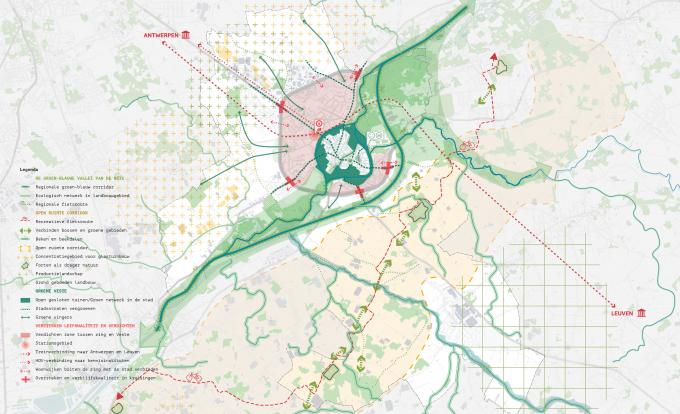 Flemish Government Architect's Scans
Team Flemish government architect
Flemish Government Architect's Scans
Flanders' spatial model is characterised by scattered low-density housing, a high number of detached dwellings, a heavy use of space, and an inefficient mobility system. This model has a negative impact on the climate and energy consumption. Flanders now faces the challenge of simultaneously transforming its cities, villages and open spaces into sustainable environments that can function in harmony.
The Flemish Government Architect's 'scans' serve as a tool for designing this transition. They identify design and policy opportunities, challenges and potential solutions for improving sustainability and the use of space. The scans are designed to support communities in making the transition to a more pleasant, healthier, better equipped and more inclusive environment, coupled with a more thoughtful and sustainable approach to the ecosystem and natural resources.
On behalf of the Flemish government architect, our multidisciplinary team has examined six Flemish municipalities: Lier, Sint-Maarten-Latem, Halle, Bocholt, Lede and Kortemark.
several municipalities in Flanders, Belgium
Team Flemish government architect
Han Dijk, Michiel Raats, Vincent Babes, Cateau Albers, Yue Shen, Tomer Shachaf, Corné Strootman, Emma Lomas Escribano, Neil Moncrieff
2DVW Architecten, Generation.Energy, VE-R, Deltares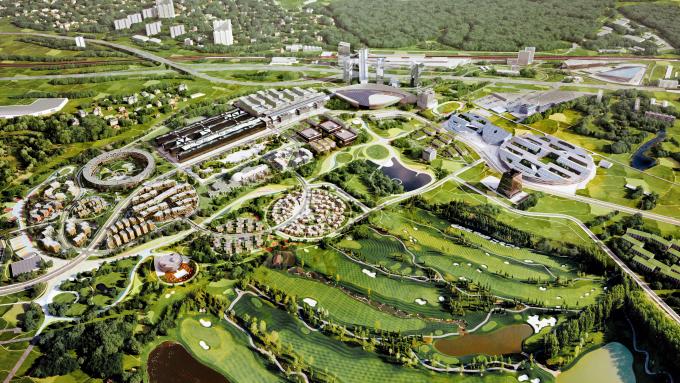 Skolkovo Gardens
Skolkovo IC
Skolkovo Gardens
Our design of the park establishes the Skolkovo Gardens as the center of recreation and exchange for the residents and workers of the Skolkovo Innovation Center. The four kilometer long strip "The Rainbow" symbolizes and stimulates encounters between people. This landscape element consists of parallel bands in which street furniture and pavilions are integrated. The strip is also provided with various landscape treatments; from granite blocks, gravel, asphalt (bicycle and skating paths) to flower strips, swallows, and grass.
Skolkovo Gardens is a high tech campus in the Skolkovo Innovation Center (SIC) and showcases buildings designed by famous architects such as Herzog & de Meuron, Valode & Pistre, Gensler and Bernaskoni. The SIC is a 400 ha special economic zone established in 2010 with a focus on five innovation industries; bio-medical, aerospace, nuclear physics, IT and energy.
The team of PosadMaxwan, Arteza and MASA architects has won the international design competition with the design and will receive the follow-up assignment for the development and realization of the park in various phases.
Park based on a high tech campuus
Rients Dijkstra, Hiroki Matsuura, Rene Sangers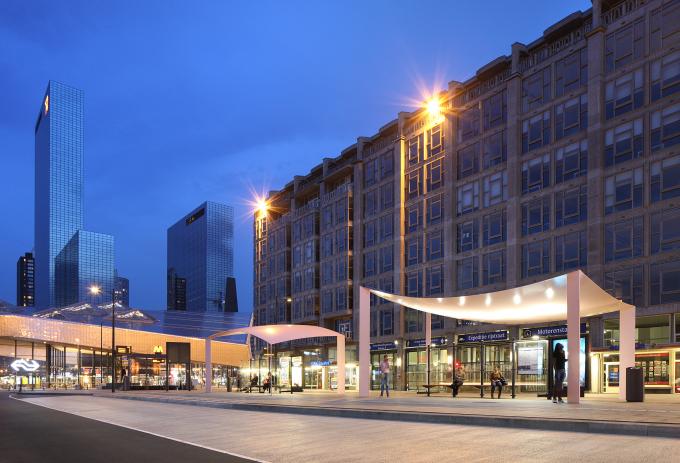 Awnings Bus Station Rotterdam
Municipality of Rotterdam
Awnings Bus Station Rotterdam
A new bus station is being built next to the train station in Rotterdam on the inner city side. The budget for the bus shelters (or so-called waiting houses) only allowed the standard bus shelters. PosadMaxwan has designed remarkable table-shaped awnings, nicknamed "cushion" and "hammock", which are also budget-friendly. Each table consists of a wafer-thin roof of 5 x 10 meters placed on slender columns. The steel tables are "warped" and treated with a silk-gloss light pink coating. The tables evoke images of sheets in the wind and curved sails. This makes waiting for the bus an unexpected experience.
Large budgets and enormous amounts of energy are spent on the modernization of the stations in Amsterdam, The Hague, Utrecht and Rotterdam. Not only the terminal buildings but also the quality of the environment will be raised to a higher level. PosadMaxwan's plans for the Rotterdam Central District place great emphasis on the quality of that public space.
Design and implementation of awnings at Rotterdam Central bus station
Rotterdam, The Netherlands
Municipality of Rotterdam
Rients Dijkstra, Hiroki Matsuura, Rene Sangers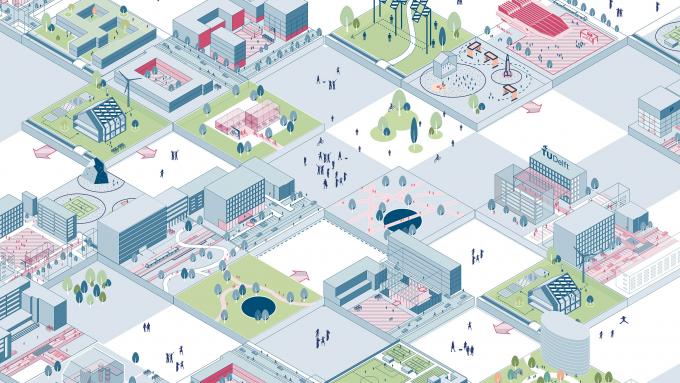 Delft University of Technology Campus
Delft University of Technology
Delft University of Technology Campus
As a leading international knowledge institution, Delft University of Technology is growing fast; it will have 25,000 students by 2025. In order to retain its top position, it is making large-scale investments in its campus, adding new teaching and research buildings, more facilities, and attractive, landscaped public space. This raises ambitious questions. For instance, what will the future of education and research look like? How do you deal with the strategic sliding puzzle of new and outdated buildings? And how do you design an inviting campus that will facilitate increased interaction between students, researchers and businesses? Finally, approximately 3,000 scattered ground-level parking spaces will be replaced by centralised parking facilities on the campus ring road. All these developments will radically alter the character of the campus.
To assist, PosadMaxwan is developing an area vision in the form of a new "campus story" for Delft University of Technology. This will provide inspiration and direction for ongoing and future development projects on campus. To lend concreteness to the area vision, PosadMaxwan and the university have crafted several storylines, which provide an assessment framework with building blocks to assist in future decisions. The storylines also draw connections between campus users, the ambitions of the university's executive board, the city of Delft, and existing spatial frameworks.
design research, area vision
Delft University of Technology
Emile Revier, Elbert Arens, Francesca Becchi, Juan Gutierrez Beltran, Peter Gijs van Enk, Georgia Ion, Elena Bulanova, Joep Bastiaans, Lena Niel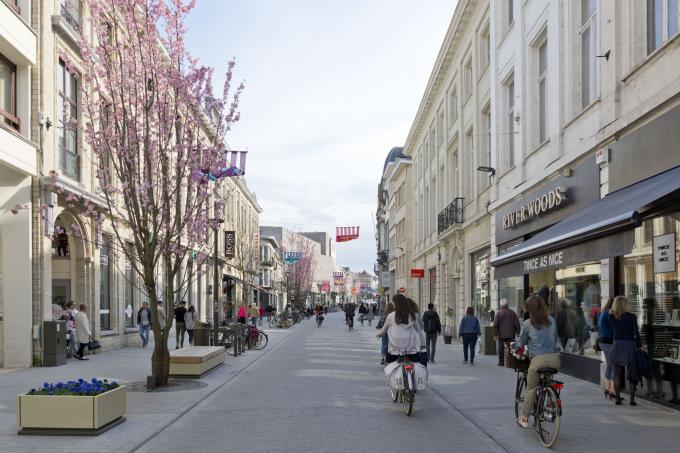 Mechelen Boulevard
City of Mechelen
Mechelen Boulevard
PosadMaxwan's design for Mechelen Boulevard strengthens the links between the city's central station and its market square. The more than 1km-long shopping, pedestrian and cycle zone forms a central axis running through the city centre and is designed largely as shared space.
Mechelen Boulevard links a chain of five important squares. A deliberate decision was made to provide maximum space for pedestrians and to finish the street furniture and walking surface to a high standard, supporting the retail functions. We opted for an understated design with accents, integrating bicycle facilities, greenery, water and art. The project interweaves Mechelen's historic character with pleasant, contemporary public space.
The project is the result of close collaboration by the city, local residents and other stakeholders. In 2018 the city of Mechelen received the Prijs Publieke Ruimte (Public Space Award) for the boulevard, which was deemed Belgium's most attractive pedestrian shopping street.


design for a shopping street; total 25,000m2
Rients Dijkstra, Hiroki Matsuura, René Sangers, Olivier Vet, Artur Borejszo, Aleksandar Hrib, Veronika Kommova, Nobuki Ogasahara, Ignas Uogintas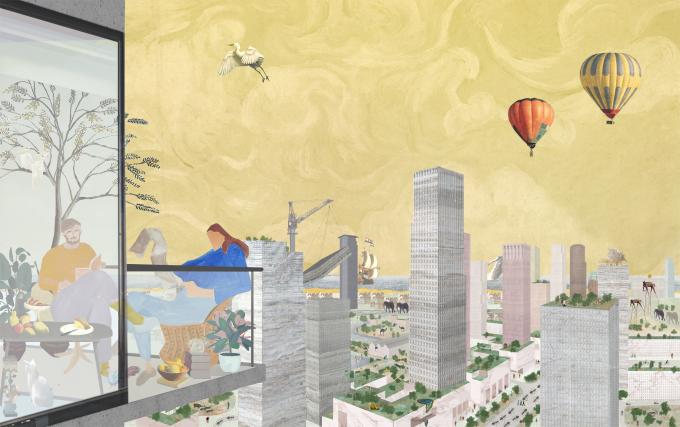 Binckhorst, The Hague
Municipality of The Hague
Binckhorst, The Hague
The Binckhorst is a dynamic section of The Hague that contains a broad mix of industrial functions, urban activities, start-ups and creative businesses. The area has plenty of potential to become a key part of the city and enrich the urban fabric with new living and working environments.
If the Binckhorst is to succeed as a mixed live-work area, its links to the rest of the city will be crucial. On behalf of the municipality of The Hague, we are therefore working on the area's spatial-economic positioning and a design for a robust network of public spaces. We are conducting studies looking at desired spatial typologies and at visual quality of building blocks. We are also working on specific "area passports" to be produced for the Binckhorst by the private sector and the municipality.
On one hand, improving links between the Binckhorst and the city has to do with transport. While access to The Hague is generally limited because of the city's coastal location, the Binckhorst presents excellent infrastructural opportunities. It is situated between The Hague's HS, CS, Laan van NOI and Voorburg railway stations. Furthermore, the major new traffic artery Rotterdamsebaan will pass through the area from 2020. In light of these features, we are looking into ways of making the Binckhorst even more reachable, for instance through better public transport. On the other hand, accessibility involves more than mobility, and hence we are looking into which types of sport and social facilities the area requires. All the plans start with the area's existing identity, aim at healthy urbanisation, and take sustainable energy as an urban development opportunity.
urban planning framework, area policy
Municipality of The Hague
Han Dijk, Elbert Arens, Karlijn Kokhuis, Elena Bulanova, Kristina Knauf, Juan Gutierrez Beltran, Jie Wang, Shruti Maliwar, Michelle Blom, Preetika Balasubramanian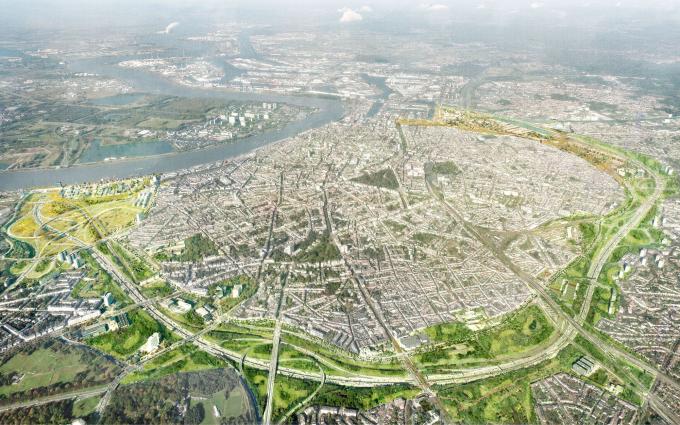 Antwerp's Groene Singel
AG Stadsplanning Antwerpen
Antwerp's Groene Singel
PosadMaxwan devised a visual quality plan for the Groene Singel Strategic Space in Antwerp. The plan sets out the rules pertaining to the landscape, public space, infrastructure and buildings on the land around the city's inner ring road with the aim of improving unity. It defines subprojects that proactively aim to improve use of the space and serves as a handbook of guidelines for designers.
The road, known as the Singel and made up of a section of the E19 motorway, Slachthuislaan, Noordersingel, Binnensingel and Zuidersingel, is one of five strategic spaces key to Antwerp's development. The surrounding land covers 625 hectares between the city centre and the suburbs. The Groene Singel project is transforming it from an underused, fragmented expanse into a central part of the city. Along with open green spaces, the project will provide room for new construction programmes.
Green space functions as a guiding constant; the goal is to create a strong, coherent ecological system by linking five large urban parks in and around the area. The plan develops three landscapes (in north, south and central Antwerp) into distinctly unified entities of high aesthetic quality. Beauty, conservation and ecology go hand in hand.
AG Stadsplanning Antwerpen
Rients Dijkstra, René Heijne, Aleksandar Hrib, Vaidotas Vaiciulis
Antea Group, Goudappel Coffeng, Hub, Karres + Brands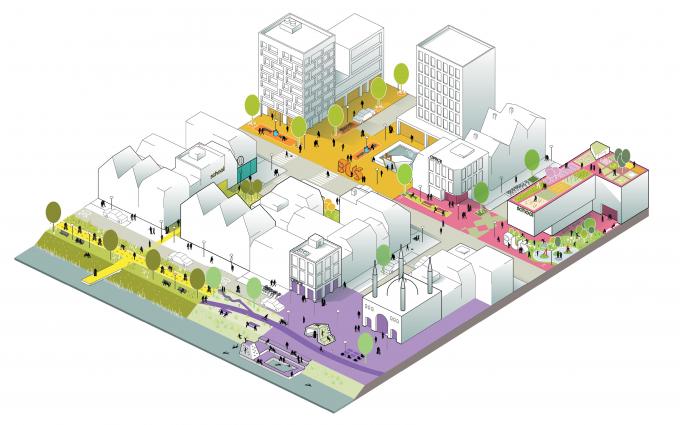 Healthy Urbanization Toolbox
Dutch Ministry of Infrastructure and Water Management, Rijkswaterstaat, Government Advisor on Infrastructure and the City, City of Utrecht
Healthy Urbanization Toolbox
Healthy cities are made up of healthy residents. So how can public space exert a positive influence on the health of the people in a city? To answer that question, we developed a generic toolbox of spatial design interventions for creating healthy cities. The interventions encourage a salutary lifestyle, helping to prevent physical problems.
They are based on our findings from extensive research conducted with GGD, RIVM and TNO on the direct relationship between physical well-being, lifestyle, and urban design. The study yielded a number of design interventions for making cities healthier. They can be grouped in four categories:
Healthy movement through the city.
Public spaces designed for exercise, recreation, socialising and sport.
Synergy between public and private spaces (work, school, health care, amenities).
Healthy basic facilities (drinking water, health care, information, food).
The toolbox has put healthy cities on the national agenda as a priority within urban development. Its principles have been successfully applied in the city of Utrecht around the main rail station on the Jaarbeurs side. The municipality now evaluates all spatial development projects on how much they do to help keep citizens healthy.
Dutch Ministry of Infrastructure and Water Management, Rijkswaterstaat, Government Advisor on Infrastructure and the City, City of Utrecht
Han Dijk, Emile Revier, Jaap Klaarenbeek, Koen Hezemans, Carlos Marchi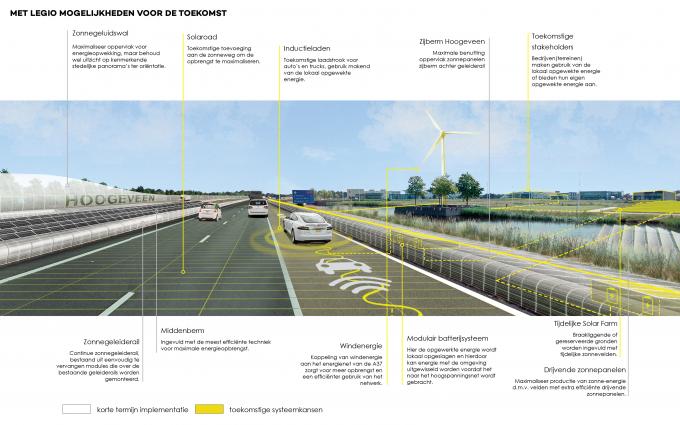 A37: The solar way
Rijkswaterstaat, province of Drenthe
A37: The solar way
Motorways offer great potential for generating solar electricity, but it is not yet an integral part of their design. We conducted design research for Rijkswaterstaat and the province of Drenthe on the possibility of integrating solar panels along the A37 between Emmen and Hoogeveen.
We began by unravelling the DNA of Dutch motorways, analysing the local landscape, and surveying energy applications. Taking our findings as a basis, the proposed system attaches solar panels to linear elements along the A37, making them part of a coherent, recognisable road design. The proposal takes into account the different types of landscape around the road by including a range of components designed to foster optimal integration of the energy system. We used GIS to calculate the motorway's energy generation potential. The proposal demonstrates how solar power can become a natural, safe, efficient element in the Dutch motorway network.
So that this transition can begin soon, we are drafting a version of the system that can be implemented in the short term. We are also outlining opportunities for the future – a future in which transport will be different, motorways and energy networks will be more intertwined and mutually enhancing, and local stakeholders will profit from solar energy in new ways.
Rijkswaterstaat, province of Drenthe
Emile Revier, Han Dijk, Karlijn Kokhuis, Francesca Becchi, Elena Bulanova, Elbert Arens, Vincent Peters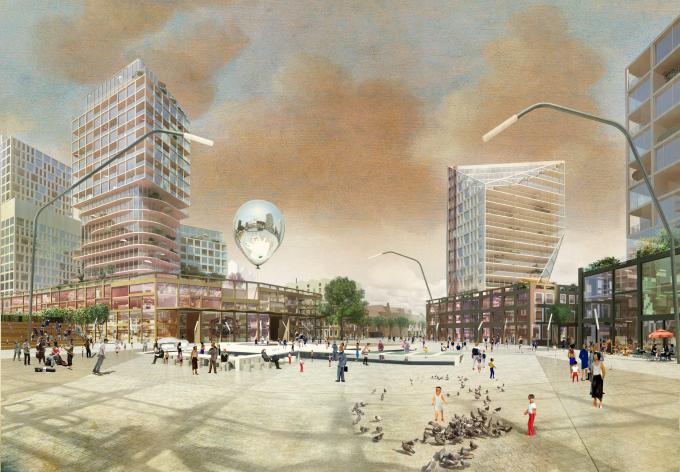 Leiden Station Area
Municipality of Leiden
Leiden Station Area
The redevelopment of Leiden Centraal railway station presented an opportunity for the formulation of an urban planning vision for the surrounding area. A focal point of the plan was to create a smooth transition between the density of the old city centre and the large scale of Leiden Bio Science Park. To this end, a new network of public spaces is being built. A combination of low frontages and set-back high-rises will create a lively, diverse, sustainable city district of attractive, slow traffic streets, squares and neighbourhood parks.
The plan is made up of blocks, each containing compact above-ground parking at its heart. A new roofed bus station will bring the transport hub up to date. Improved bicycle links will allow cyclists to cross the railway lines while avoiding difficult intersections with car, bus and pedestrian flows.
The plan has been under implementation since 2012 under the supervision of Rients Dijkstra. Step by step, Leiden's main station area is becoming a lively urban district where visitors, residents and other users share newly designed public space.
190,000 m2 master plan for 1,000 homes, offices for local start-ups and international companies, retail space, a multiplex cinema, parking and public transport
Rients Dijkstra, Hiroki Matsuura, Kris Schaasberg, Andreas Karavanas, Nobuki Ogasahara, Milena Zaklanovic, Anna Borzyszkowska, Artur Borejszo , Nara Lee, René Sangers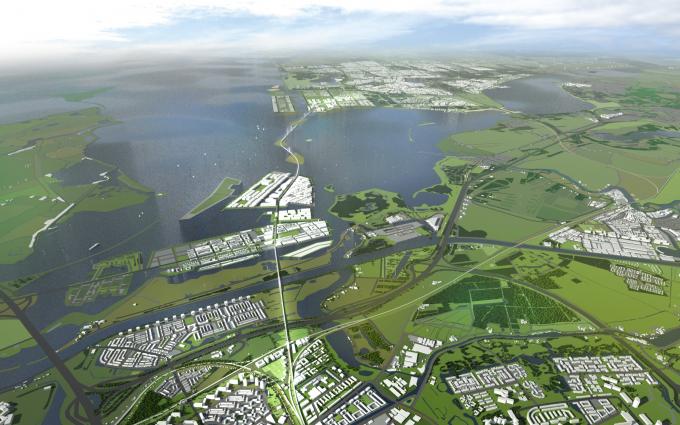 IJmeer line
Werkmaatschappij Amsterdam Almere
IJmeer line
By 2030, the city of Almere, part of the Amsterdam metropolitan region, will be more than double its current size. PosadMaxwan has worked on various plans for Almere's expansion since 2007. With Jacobs Engineering and APPM, we developed a design and business case for the IJmeer line, a new light rail link between Almere and Amsterdam.
Besides envisioning a new modern transport line, the plan suggests inventive improvements in several other directions. For instance, the construction of three islands in the IJmeer lake – overarched by a bridge spanning the lake – would create space for recreational and natural areas. Building a fourth island and a spit of land at Almere Pampus for 26,000 new homes would yield unique waterside residential environments while improving the lake's ecological quality. Finally, connecting the light rail link seamlessly to other transport and cycle networks would result in an integrated mobility system.
Thanks to the clever connections outlined in the business case, the plan would yield a €2.5 billion cost savings on the government's €4.5 billion estimated project cost. With the aid of GIS, we produced an integrated design incorporating aspects such as transport value (number of passengers, economic profits, etc.), property development and construction costs.
design research, business case
Werkmaatschappij Amsterdam Almere
Boris Hocks, Han Dijk, Taco Kuijers, Johan Land, Justina Muliuolyte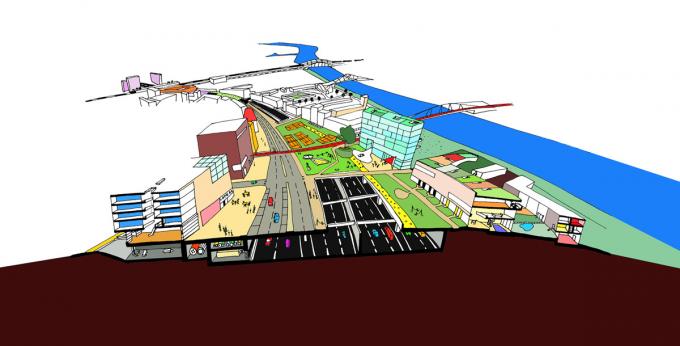 Leidsche Rijn, Utrecht
Municipalities of Utrecht and Vleuten de Meern
Leidsche Rijn, Utrecht
The urban plan for the VINEX suburb Leidsche Rijn, which will provide homes for 80,000 new Utrecht residents, is one of the most extensive in Dutch history. One of the greatest challenges was to physically and mentally link the new district with the "mother city" of Utrecht.
In accordance with the "compact city" concept, VINEX suburbs were designed to be closely connected to existing cities and structures. However, restrictions around motorway noise have often led to new residential areas feeling isolated and monotonous. We worked to solve underlying technical and organisational issues in order to break free of the VINEX straitjacket and create a city based on opportunities, not obligations.
A groundbreaking example of this approach is the innovative solution we came up with for the A2 motorway, which runs through the planning area. Rather than accepting Leidsche Rijn's isolation from the rest of Utrecht, we opted to strengthen its continuity with the overall urban fabric. We designed the A2 as a "hollow dyke", with public space on the roadway's roof and high-quality developments – including the city centre – on either side.
"Taming" the A2 in this way created space for a new 300-hectare park, Máximapark, at the heart of the new urban neighbourhood. It was named the Netherlands' favourite city park in 2014.
master plan for 30,000 homes at varying densities, three community centres and one regional urban centre, 700,000m2 of offices, 200ha of business premises, and a 300ha city park
1994-1996 (execution till 2020)
Municipalities of Utrecht and Vleuten de Meern
Rients Dijkstra, Kirsten van den Berg, Ivan Ivanovski, Arjan Klok, Christian Müller, Vincent Lo-A-Njoe, Herman Verkerk, Catherine Visser, Arno de Vries, Harmen van der Wal, Laura Weeber
Crimson Architectural Historians, Juurlink [+] Geluk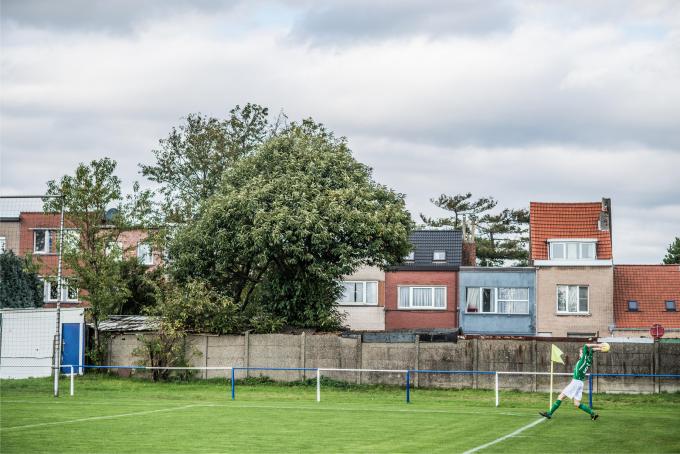 Labo XX
City of Antwerp
Labo XX
The city of Antwerp is expected to grow in the coming years by an area equivalent in size to the city of Mechelen. An additional 15,000 to 30,000 new homes will be needed, along with facilities for their residents. Most of this growth will take place in the city's 20th-century belt, a highly diverse section that can be classified as an organic hotchpotch or programs and structures. The original layout offers space for growth as an opportunity to develop the areas still young, unfinished urban character.
With Maat Designers, 3E and Shinsekai Analysis, PosadMaxwan has produced a densification strategy for Antwerp's 20th-century belt. We have the assignment as an opportunity to reassess the spatial quality of the neighborhoods and the availability of services. By deploying the concept of "microcentrality", we aim to improve the local development of existing and new service centers, turning monofunctional residential districts into recognizable city districts with a diverse selection of facilities. In this way, densification can serve as a high-quality urban renewal.
densification strategy, design research
Emile Revier, Sarah van Apeldoorn, Erjen Prins, Martijn Hollestelle
Maat ontwerpers, 3E, Shinsekai Analysis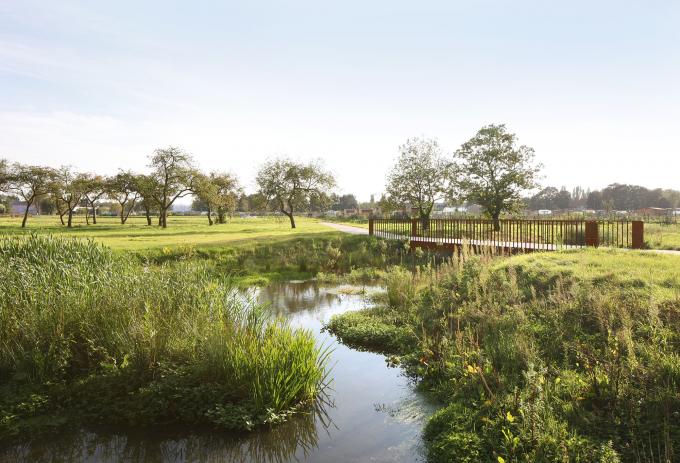 Park Groot Schijn, Antwerp
AG Stadsplanning Antwerpen
Park Groot Schijn, Antwerp
Park Groot Schijn is situated just outside the city of Antwerp, yet it has an extraordinarily scenic character, with the meandering stream Koude Beek as a striking, atmospheric feature. PosadMaxwan redesigned Park Groot Schijn as part of a larger master plan. We have preserved and enhanced the landscape's existing qualities as much as possible.

To combat drainage issues, we subtly altered terrain levels and incorporated four wadis into the landscape. The existing buildings, allotment gardens, lawns and stream valley were integrated to form a coherent whole. The allotment clusters are clearly recognisable elements in the landscape, inviting people to engage in active recreation and a healthy lifestyle. A network of paths provides access to the park at five points, connecting important spots and offering varied views. As a result the landscape now alternates between wet and dry, hosting the appropriate flora and fauna.

The design fulfils the stated ambitions of solving the drainage problem through a unified spatial design, developing the park's natural features, and making it attractive to a broad group of users. All the ingredients for an ecologically and socially valuable, accessible, inviting and atmospheric park are in place.
park and landscape design, including allotments and parking; total 6.5ha
AG Stadsplanning Antwerpen
Rients Dijkstra, Martijn Anhalt, René Heijne, Aleksandar Hrib
Antea Group, Bert Gellynck (1010 architecture urbanism)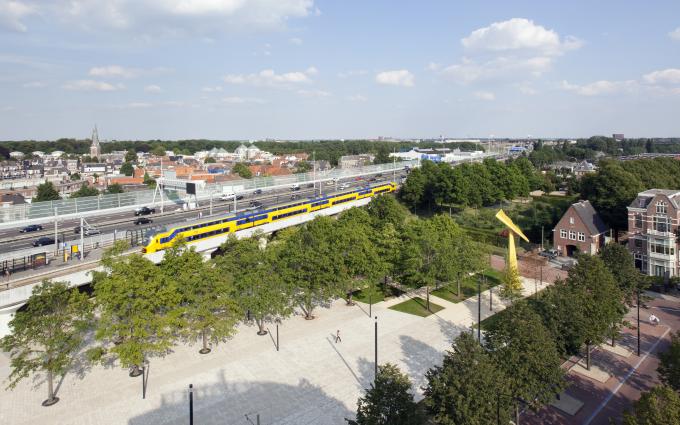 Voorburg transport hub
Municipality of Leidschendam-Voorburg
Voorburg transport hub
The Voorburg multimodal transport hub, serving trains, trams, buses, cars, bicycles and pedestrians, is one of the busiest in The Hague metropolitan area. We set out to bring things back down to the human scale and create a safe, pleasant environment where people can get around in an intuitive manner.
We worked on the redevelopment of the Voorburg station zone for four years. The biggest design challenge in bringing about a successful transformation was to strike a balance among multiple historical layers, from an adjacent 17th-century estate and gardens to modern infrastructural elements. The design unites these contrasting features within a coherent whole that serves to enhance the old and the new.
The new station district comprises various subareas, each with its own main function. These are linked by a wide footpath that runs from the historic centre of The Hague to the Binckhorst district. We believe the spatial details – materials, dimensions, proportions, routing and street furniture – have played an essential part in the project's success. Completed in 2013, it was subsequently nominated for several architecture and planning awards.
master plan for station area, design and implementation of public space and landscaping, conversion of old station building
Municipality of Leidschendam-Voorburg
Han Dijk, Bibi von Meyenfeldt, Karin van Rooij, Anna Dijk, Luisa Moura, Emile Revier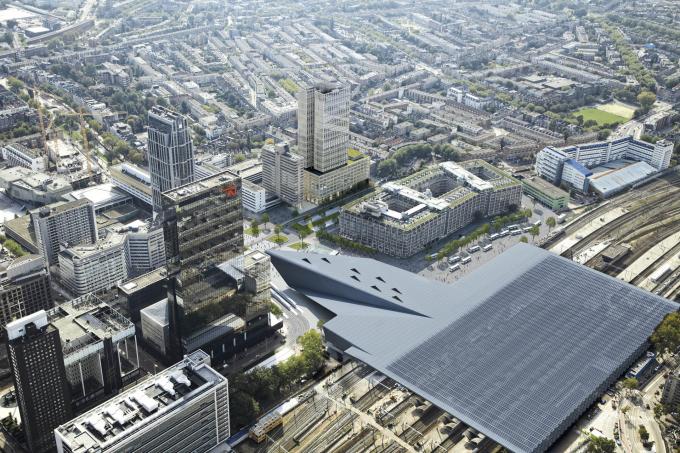 Rotterdam Central District
City of Rotterdam
Rotterdam Central District
The new Rotterdam Central Station opened in 2014, offering fast rail links to Amsterdam, Paris and London and to the other Randstad cities as well as a new metro station and bus terminal. PosadMaxwan created an urban development plan for the 20-hectare area surrounding the station. Every day, nearly 100,000 people pass through or linger here.
Design is the key to transforming this formerly isolated, unattractive business district into a well-connected, vibrant part of the city centre. The plan emphasises the importance of a coherent and well-managed development of a large number of new projects in the area (housing, commercial premises and municipal facilities covering 560,000m2). We also drew up a flexible aesthetic quality plan for the projects as well as the public spaces, which serves as a guide for the high-quality transformation and development of the public areas and the new and existing buildings.
As part of the redevelopment, PosadMaxwan overhauled the new bus terminal at the side of the station. Working with a limited budget and using innovative methods, we designed a series of distinctive canopies, each measuring five by 10 metres and made from wafer-thin sheet steel strong enough to bear its five-tonne weight.
Following delivery of the master plan and aesthetic quality plan, Rients Dijkstra was appointed supervisor of lot development, architecture and public space.
urban development plan for 560,000m2 of offices, public transport, leisure and retail space, and housing
2007-2010 (execution till now)
Rients Dijkstra, Hiroki Matsuura, Martijn Anhalt, Jason Hilgefort, Klaas Hofman, Anna Borzyszkowska, Larraine Henning, Michiel Raats, Darrel Ronald, Kris Schaasberg, Thomas Stellmach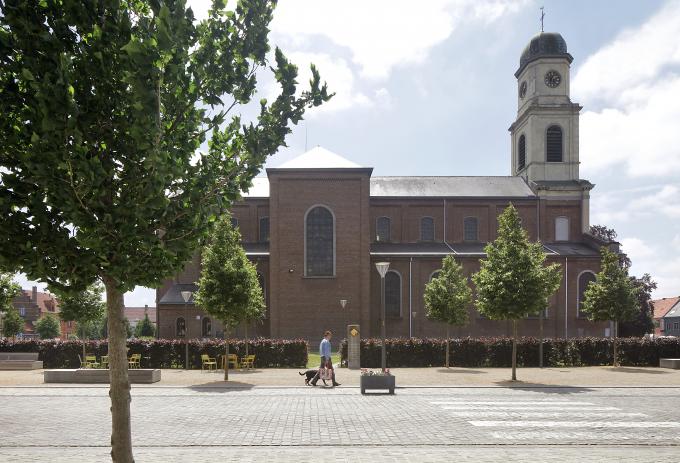 De Omgang, Nazareth
Municipality of Nazareth
De Omgang, Nazareth
De Omgang is the winning entry in an open call by the Flemish Government Architect. The design tackles creeping clutter in the central church square of Nazareth, Belgium, and restores its former identity as a focal point for the village and surrounding area. Deeply rooted in layers of history, the design has been created to serve residents, visitors, commerce, and various functions in and around the square.

Buildings with different functions adjoin the square but previously were somewhat segregated. Improved connections now enhance the look and use of the square. The public areas have been redesigned as a harmonious, integrated group, with plenty of space available for temporary use. Parking spaces are subtly interwoven with the public areas and restored historical features through a deliberate use of detail and materials.

The first phases of the project – De Omgang and the surrounding pavements – were delivered in 2018. Landscaping has been carried out in the church cemetery, which is to be converted into a park.
master plan and design of public space
Emile Revier, Han Dijk, Michiel van Zeijl, Iris Wijn, Luisa Moura, Karlijn Kokhuis, Cristina Del Arco Gil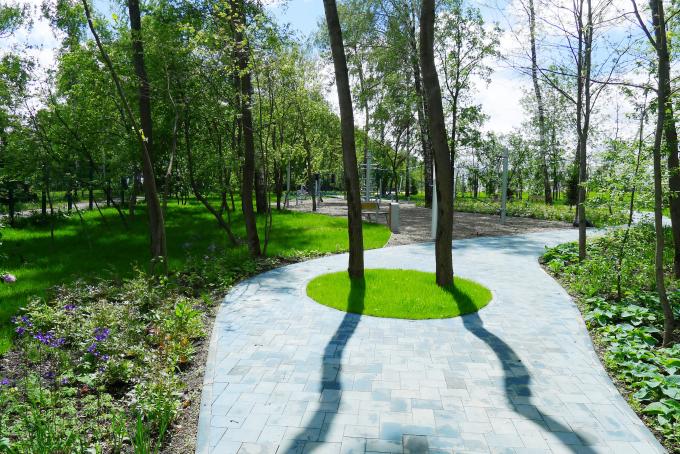 Kids Park, Moscow
Skolkovo IC
Kids Park, Moscow
Kids Park comprises part of Skolkovo Gardens, a 50-hectare green area designed by PosadMaxwan, Arteza and MASA Architects for residents and employees at Skolkovo Innovation Centre in Moscow. The 400-hectare centre was planned in 2010 as a special economic zone for high-tech companies in spheres including the biomedical, space, IT, energy and nuclear industries.
Skolkovo Gardens boasts a wide range of public areas, including a forest, a kite-flying field, a market hall, a swimming pool, ponds, and Kids Park. This "play park" adjoins a residential neighbourhood and has several adventurous play areas. A raised, bright yellow footpath guides visitors through the woods and past fields of flowers. With its interwoven mix of nature and challenging objects, Kids Park stimulates children's imaginations.
Rients Dijkstra, Hiroki Matsuura, Artur Borejszo, Valentina Chiappa Nunez, Aleksandar Hrib, Giulia Sarah Bacci, Paula Ramos Martinez, Rene Sangers, Federica Padovani, Nicolò Calandrini, Yu Ting Chen, Qingsong Han, Eleni Papadogianni, Giacomo Barchiesi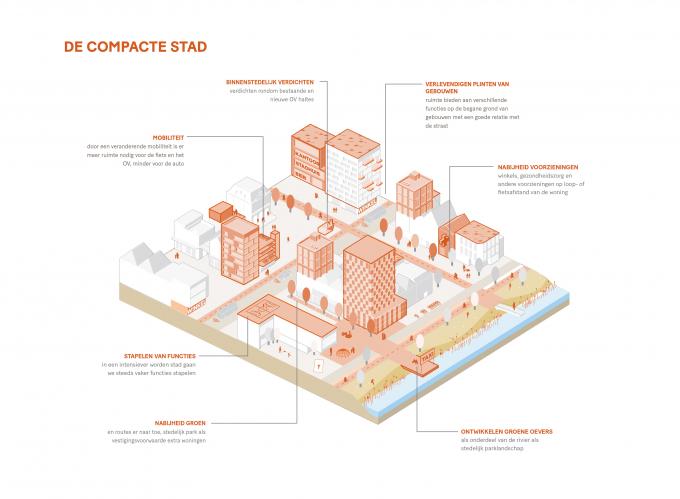 Rotterdam 2040
City of Rotterdam
Rotterdam 2040
What kind of city does Rotterdam want to be in the future? How will it handle issues like climate change, the transport transition, and differences between groups of residents? With a new Dutch environmental law set to come into force, it's time to turn the city's ambitions into a vision for the future. The law, which goes into effect in 2021, will bring together previously separate rules relating to the human environment. Every municipality will have its own plan concerning the places where people live, work, study and play. The municipality of Rotterdam and PosadMaxwan have conducted a study in preparation for the city's formulation of its environmental plan. We have outlined five scenarios that will help to guide Rotterdam into the future as, respectively,
A compact city where densification and greening go hand in hand,
An inclusive city of mixed neighbourhoods with space for meeting others and participating in activities,
A productive city that responds to international economic trends and provides room for innovative manufacturing businesses,
A healthy city with cleaner air, smart climate adaptation solutions, and spatial interventions that invite people to get moving,
A circular city with room for recycling and sustainable electricity generation.
These scenarios are not intended as mutually exclusive choices; rather, they derive their power from the way they work together. They will inform officials' actions and help to guide councillors and project initiators. They are flexible enough to help steer new ideas and developments and to assist in the creation of environmental plan.
Han Dijk, Froukje van de Klundert, Gintare Norkunaite, Vincent Peters, Elena Bulanova, Francesca Becchi, Vincent Babes
Bart Schrijnen, Geiske Bouma (TNO), Merel Pit (Architectuurverhalen)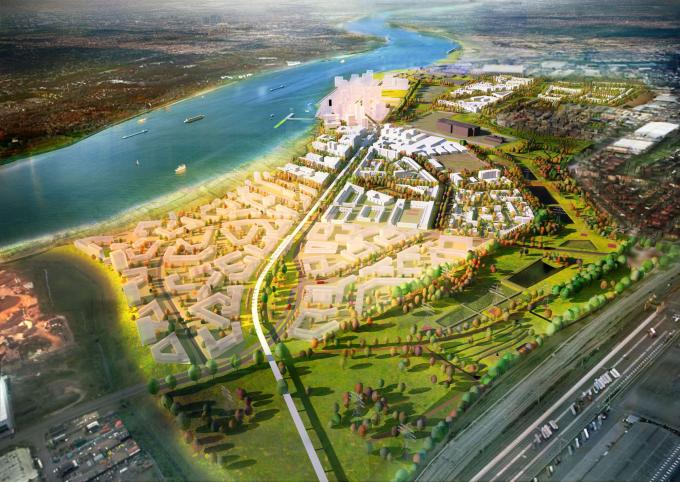 Barking Riverside, London
Barking Riverside Ltd. (Bellway Homes, English Partnerships)
Barking Riverside, London
Barking Riverside London is a new district of East London that will house 25,000 residents. It boasts a breathtaking setting on the north bank of the Thames, near Canary Wharf and the 2012 Olympic Games site. The plan features a clear, ingenious layout, with recognisable neighbourhoods set in peaceful surroundings.

A key aspect of the plan is a is a range of facilities serving families, young people and elderly residents; these vary from local shops and schools to care institutions and recreational facilities on the Thames, which will provide 2,000 new jobs. The restoration of access to the river is a unique element that makes the plan special for new residents as well as people across greater London.
Great care has been taken over the design of public space and the transition between the natural landscape and the city (a linear park will run along the riverbank). The master plan and accompanying aesthetic quality plan describe in detail the layout and design of this urban area and outline how the project will take shape over 25 years.
master plan for 11,000 homes, 22,000m2 of retail and leisure space, 2,000m2 of care facilities, and three schools
2009-2010 (execution till now)
Barking Riverside Ltd. (Bellway Homes, English Partnerships)
Rients Dijkstra, Hiroki Matsuura met Paul Gerretsen, Jason Hilgefort, Thomas Stellmach, Milica Topalovic en Martijn Anhalt, Verena Balz, Artur Borejszo , Anna Borzyszkowska, Klaas Hofman, Tom Jonckers , Lucas Lou, Joao Mendes, Ali Saad, Kris Schaasberg, Claudia Strahl, Petar Zaklanovic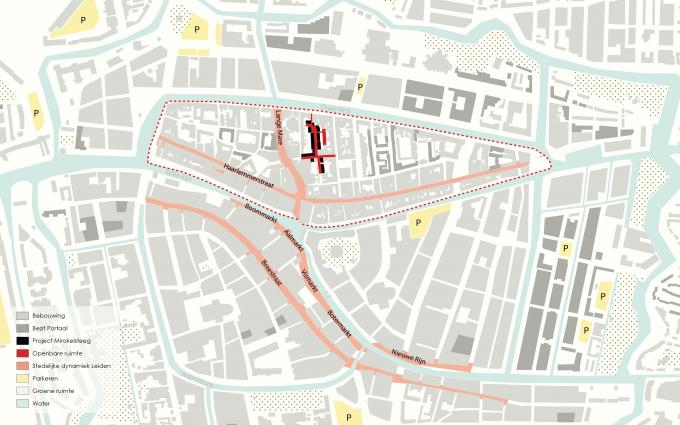 Mirakelsteeg, Leiden
Portaal Housing Corporation
Mirakelsteeg, Leiden
The Mirakelsteeg plan was the national winner of the New Elan competition, which explored the future of 1970s and 1980s neighbourhoods characterised by uniform streets, badly insulated roof structures, insufficient parking and poorly defined public spaces. It approached the neighbourhood as a spatial enterprise, capitalising on those things the inner city lacks most: parking spaces and green public space.
We therefore proposed that new parking spaces be built in the inner courtyard of the residential block beneath a raised deck area, along with diversified, better insulated, higher-value homes, on a car-free residential street with vibrant public space. It all adds up to a dynamic plan that provides direction for the spatial organisation of the neighbourhood.
Portaal Housing Corporation
Han Dijk, Emile Revier, Boris Hocks, Justina Muliuolyte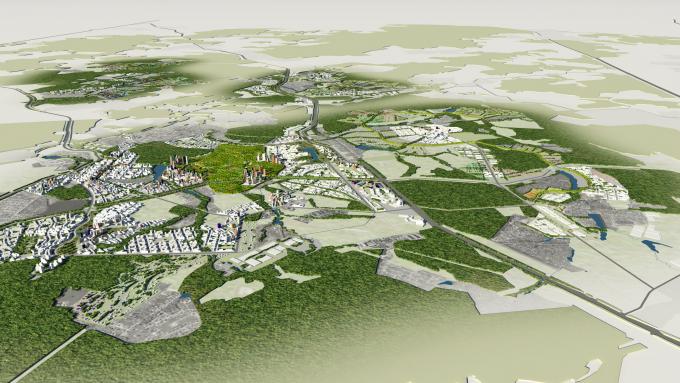 Project A101, Moscow
Masshtab Management Company Ltd.
Project A101, Moscow
In 2007, PosadMaxwan completed the 6000 ha master plan, dubbed Project A101, after having won an international competition in 2005. This new town for 230.000 inhabitants southwest of Moscow is arguably one of Europe's largest urban projects. Working closely with the client, engineers, landscape architects and a host of local consultants, the masterplan was approved by the regional planning authorities.
The project features 116'000 homes of varying size and type, 13 mixed-use centres, a business park (500'000 m2 office floor space), a new university and an entirely new network of roads and public transport. Establishing a high level of social infrastructure, the development will include 2 hospitals, 20 health clinics, 60 schools, and 150 kindergartens. Our first priority was to develop a socially sustainable city where the inhabitants have all the necessary public amenities within an accessible distance.
116'000 dwellings, 1'185'000 m2 commercial, 910.000 m2 Industrial; 530.000 m2 retail, 604.000 m2 social infrastructure, 600 ha leisure park space, 4 tram lines connecting to the Moscow metro system, 1 university, 60 schools, 150 kindergartens, 2 hospitals
Masshtab Management Company Ltd.
Rients Dijkstra, Hiroki Matsuura, Darrel Ronald, Anna Borzyszkowska, Jason Hilgefort, Klaas Hofman, Marcin Koltunski, Max Cohen de Lara, Marianna Rentzou, Thomas Stellmach, Claudia Strahl, Stephanie Wong
URS Corporation (Development Planning & Engineering), H+N+S Landscape and Ecology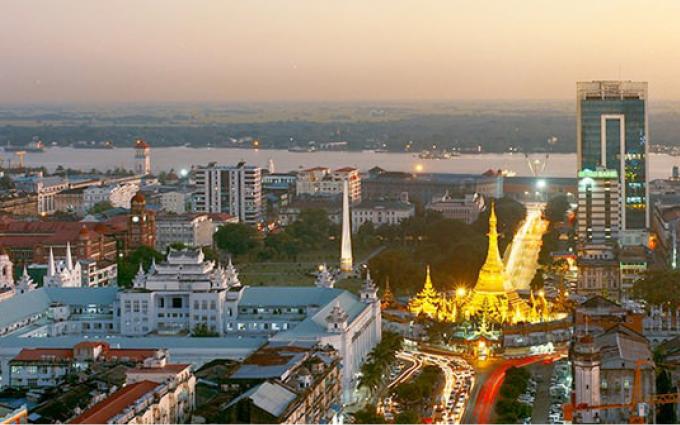 UN-Habitat Myanmar
UN-Habitat, Creative Industries Fund
UN-Habitat Myanmar
Myanmar stands at a defining point in its recent history. Since 2011, the country has seen a general trend towards social and economic liberalisation and a more market-oriented economy, which leads to increasing urbanisation. This offers a unique opportunity to re-define the future of many of Myanmar's Cities.
Yangon is one of those cities in transition. The former capital of Myanmar's population is projected to grow to 11 million people by 2040, more than double the 5 million inhabitants the city housed in 2015. It was in this year that UN-Habitat worked on an exemplary city extension with a team of Dutch urban planners (ourselves, Urban Codes, Felixx Landschapsarchitecten and MakeTank), who elaborated this plan along with local parties.
Seven sites are appointed to accommodate this projected population growth, the Htantabin area being one of them. The masterplan by the UN-Habitat Urban Lab Team aims to turn this 100km2 area into a resilient and affordable urban environment, housing up to 750.000 people. The proposed setup of the new district is based on the creation of a resilient urban water system and builds on the connections with the existing city. New centralities are proposed and alternative means of transport are integrated in the planning framework. Strategies are elaborated to allow for a phased development, realising an urban environment with an adequate density, sufficient facilities and affordable housing units.
The project is part of UN-Habitat's Global Network of Urban Planning and Design Labs and results were presented at the Habitat III conference in Quito and at the Venice Biennale, as part of the 15th International Architecture Exhibition, 'Reporting From the Front' in 2016.
UN-Habitat, Creative Industries Fund
PosadMaxwan, Felixx Landschapsarchitecten, Make Tank, Urban Codes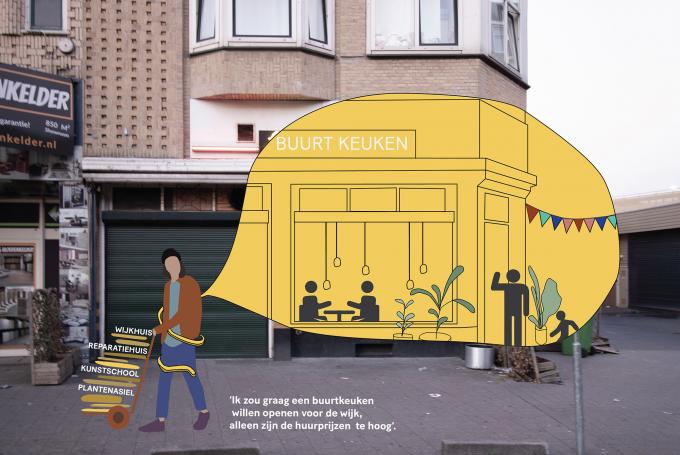 Beijerlandselaan, Rotterdam
Office of the Government Architect
Beijerlandselaan, Rotterdam
The street Beijerlandselaan in southern Rotterdam is set to undergo a thoroughgoing transformation that will make it safer and more pleasant. A key aim of the project is to tackle organised crime, such as money laundering. At the request of the Government Architect, our multidisciplinary team analysed the street's problems and potential. We proposed spatial, programmatic and social solutions to combat crime on Beijerlandselaan. Examples include:
Raising Beijerlandselaan's profile to make it the heart of the neighbourhood and improving links to adjacent areas and the Feyenoord City stadium and district.
Redesigning the layout to improve connections at street level.
Adding functions other than shops to bring life to the area outside store opening hours.
Creating more pleasant places to linger.
We have also proposed the establishment of a "social retail corporation" to encourage the presence of businesses that engage with the neighbourhood and local residents. A reward/penalty system would help to increase shopkeepers' involvement: those who act to make the street safer and more pleasant would benefit from lower rent, while those who do the opposite would incur rent rises.
Go to interview with the Government Architect
Office of the Government Architect
Han Dijk, Gintare Norkunaite, Georgia Ion, Froukje Taconis, Eva Verberne
Cihan Bugdaci (Gentlemen A.R.T.), Gwen van Eijck (Erasmus University criminology faculty)
Curious about what else PosadMaxwan is doing to build clean, smart, healthy cities? Or have you got a spatial challenge you'd like to know how we can solve? If so, get in touch. This is just a small sampling of our portfolio – we'd love to tell you more.